A Windows color picker.
The Eye Dropper tool for Windows.
Select any pixel on your screen and retrieve its colour. ColorGet outputs a ton of different colour formats, and conveniently copies your favorite format into the clipboard.
Remove clutter by only displaying colour codes you need and use.
With lots of options you can make ColorGet adapt to your preferred workflow. E.g. copy the current color to the clipboard by pressing Ctrl+C or hitting the mouse button.
Missing something? Let me know!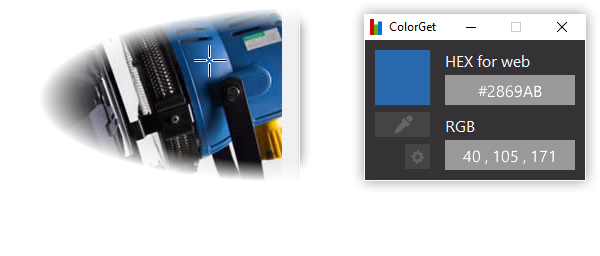 Clean. Simple. Effective.
A pipette tool for Windows 7 to 10 - reimagined.

Being used to the Mac OS X ColorPicker, I was on the lookout for a Windows equivalent. After some research I sensed a quite sincere lack of simple yet versatile Windows-based Eye Droppers, and so ColorGet was born.
Hence I have made ColorGet as practical as possible. With only few megabytes in size, both a portable version and an installer available, quite universal support for Windows 7 and upwards, and both 32bit and 64bit versions available, it should be able to support you anywhere needed.
Adapts to your workflow.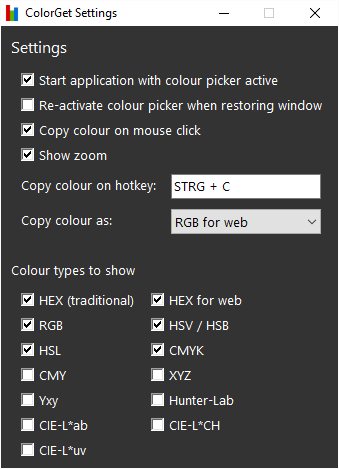 ColorGet features quite a few settings to make it your own. Apart from being able to select which color standards to use, you can change the default behaviour.
Optionally start ColorGet in active mode, so that you're ready to capture the color you're after right away.
Display a small zoom window next to your cursor.
Set your own hotkey for copying the color.
Define which color standard to copy to the clipboard.

... including special options for web developers such as rgb(255,54,67);

Automatically minimise ColorGet to the Tray as soon as you have made your selection.
On top of that — if you're ever missing anything, I'll try my very best to incorporate your wishes into the next update.
Selling at $5.99
Because of the amount of time spent in developing ColorGet, I decided to sell it. (You wouldn't believe how many hours got into the planning, making, and math solving behind this.)
By charging you a small fee I can offer great, personal support, and ensure my costs are covered. These include the rather expensive Code Signing Certificate, for example, which is necessary to sign executables and installers on Windows.
Currently supported color standards
ColorGet can calculate and display the following color formats. The sample output represents how a color standard is copied to the clipboard.
| Color Format | Sample Output by ColorGet |
| --- | --- |
| HEX | 0x59B200 or #59B200 (for web) |
| RGB | 89 , 178 , 0 or either rgb(89 , 178 , 0) or rgba(89 , 178 , 0, 1) (both for web) |
| HSV / HSB | 90 , 100 , 70 |
| HSL | 90 , 100 , 35 |
| CMYK * | 50 , 0 , 100 , 30 |
| CMY * | 0.7 , 0.3 , 1.0 |
| XYZ * | 20.040218 , 33.964636 , 5.499603 |
| Yxy * | 33.964636 , 0.336785 , 0.570791 |
| Hunter-Lab * | 58.279187 , -40.608535 , 35.200441 |
| CIE-L*ab * | 64.934492 , -51.261219 , 65.612277 |
| CIE-L*CH * | 64.934492 , 83.262738 , 307.999615 |
| CIE-L*uv * | 64.934492 , -43.074651 , 77.249328 |
* Please note: Marked formats are converted from RGB values, and will therefore only be an approximation of the correct colour value.
System Requirements
ColorGet doesn't need much:
Windows 7 or newer (32bit and 64bit natively supported)
and 5 MB of hard drive space.
Who is behind ColorGet?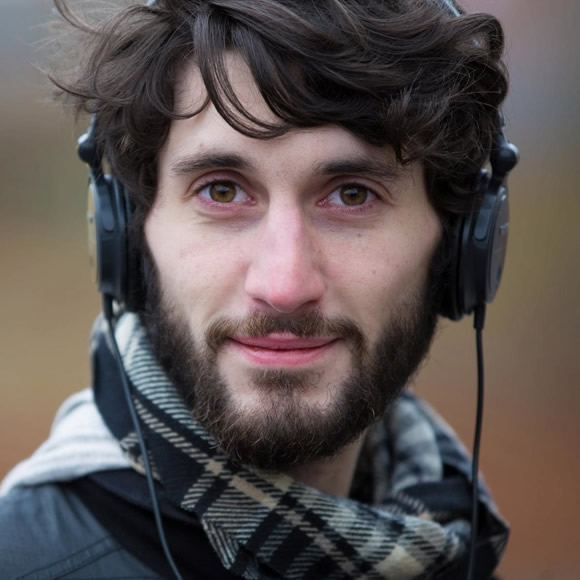 I'm Leonardo Re and I am an avid Web Developer as well as Film Director from Bremen, Germany.
As I was on the unsuccessful hunt for a color picker on Windows, I eventually decided to create my own.
Well then, please do let me know — I will do my best to fix any issues and add new features.
Our order process is conducted by our online reseller Paddle.com. Paddle.com is the Merchant of Record for all our orders. Paddle provides all customer service inquiries and handles returns.
---
© 2023 Leonardo Re.
—
---
Contact Details
Leonardo Re
Parkstr. 40
D-28209 Bremen
Germany
eMail: [email protected]
Phone: +49 1578 7510277
---
Legal Notes
Contact Details
Leonardo Re
Parkstr. 40
D-28209 Bremen
Germany
eMail: [email protected]
Phone: +49 1578 7510277
Disclaimer
Although all content and information were picked with care, I can not guarantee for their correctness.
All downloads are provided 'AS IS'. The use of every program on this website is at your own risk. The author of this website and the programs takes no liability whatsoever for the programs or any damages produced by them. The author also takes no responsability for the functionality of any of the programs.
Copyright and trademark information
Content and design of this website is copyrighted © 2023 by Leonardo Re. All rights reserved.
Apple, Mac, Mac OS, Macintosh are trademarks of Apple Computer, Inc., registered in the U.S. and other countries.
All other brands, logos, services, companies and products are trademarks or registered trademarks of their respective companies.
---
ColorGet End User License Agreement (EULA)
This End User License Agreement ("Agreement") is a legal agreement between You (either an individual or an entity) and Leonardo Re (collectively the "Owner") regarding this software product and the materials contained therein and related thereto. Your act of installing and/or otherwise using the software constitutes Your agreement to be bound by the terms of this Agreement. If You do not agree to the terms of this Agreement, do not download and install the software product.
Licensing. This Agreement allows you to use two (2) copies of the software program ("software") for Personal Use or Commercial Use. The Software is in use on a computer as soon as it is loaded into temporary memory (for example RAM) or installed into permanent memory (for example hard disk, USB drive or other storage device) of that computer. Installation on a network server, cloud storage device or network drive is only allowed if the Software is not made publicly accessible.
Disclaimer of Warranty. Even though the Software has been tested, the Owner takes no responsibility or liability for not working or not correctly working Software. Even if the Software is most likely to work on Your computer, it may as well not, run on lower or higher performance, be partially not working or it may work with errors, and the Owner can not be held responsible for that.
THE OWNER MAKES NO WARRANTIES, EXPRESSED OR IMPLIED, ORAL OR WRITTEN, CONCERNING THE SOFTWARE OR ANY PARTS THEREOF. THE OWNER ALSO DOES NOT WARRANT OR GUARANTEE THAT THE PRODUCT'S CAPABILITIES MEETS YOUR NEEDS. THE OWNER DOES NOT GUARANTEE THAT THE SOFTWARE WILL BE ERROR FREE, CONTINUOUSLY OPERATES OR THAT PROBLEMS WILL BE CORRECTED.
Limitation of Liability. THE SOFTWARE IS PROVIDED "AS IS". IN NO EVENT WILL THE OWNER NOR ANYONE ELSE INVOLVED IN DEVELOPMENT OR DISTRIBUTION OF THE SOFTWARE BE LIABLE FOR ANY DAMAGES WHATSOEVER OR CONSEQUENTIAL DAMAGES FOR PERSONAL PROPERTY, PERSONAL INJURY, LOSS OF TEXT OR DATA, LOSS OF BUSINESS INFORMATION, LOSS OF BUSINESS PROFITS OR ANY OTHER LOSS, APPLYING TO YOU OR ANYONE ELSE EVEN IF THE OWNER HAS BEEN ADVISED OF THE POSSIBILITY OF SUCH DAMAGES.
Restrictions. You are not permitted to copy, otherwise reproduce or modify the Software. It is strictly prohibited to distribute, rent, lease, lend, sell, display or transmit the Software as a whole or any parts of it. Some files may not belong to the Owner but to thirds. Other licenses apply to these files. Those licenses and the files concerned are specified in the documentation coming with this Software.
YOU ARE NOT PERMITTED TO REVERSE-ENGINEER, REDISTRIBUTE, COPY, CLONE, DECOMPILE, DISASSEMBLE, MODIFY OR ALTER THE SOFTWARE IN ANY WAY WITHOUT THE OWNER'S WRITTEN ADMISSION.
Intellectual Property Ownership. The Owner retains all right, title and interest to this Software, including, but not limited to, all copyrights, trademarks, trade secrets, trade names, proprietary rights, patents, titles, computer codes, themes, updates, configuration files, tools, images and moral rights. The Software is protected by Federal Republic of Germany copyright law and applicable copyright laws and treaties throughout the world. All rights are reserved. The Software may not be copied, reproduced or distributed in any manner or medium, in whole or in part, without prior written consent from the Owner.
Support. To make this Software as user-friendly as possible, the Owner may distribute free or paid updates to the users. These are optional and not necessarily to install. For information about the updates contact the Owner or visit the Ownerís website.
When experiencing problems the user has the possibility to contact the Owner, which may not respond or simply refer to the documentation.
Termination. This Agreement is valid until terminated by the user or the Owner of the Software. It may also cease automatically without any form of notice if You do not comply with any part of the Agreement. You can also end this Agreement by destroying the Software and all copies and reproductions of the Software and deleting the Software from any client server or computer on which it has been installed. Transferring the Software also terminates the Agreement.
If You have any questions about this Agreement or the Software please do not hesitate to contact the Owner:

Leonardo Re
Parkstr. 40
D-28209 Bremen
GERMANY
E-Mail: [email protected]
Copyright 2016 Leonardo Re. All rights reserved.
All other brands, logos and products are trademarks or registered trademarks of their respective companies.
Published 06 March 2016 by Leonardo Re, GERMANY
---
Refund Policy
To place a refund, return or exchange request for an order placed with Leonardo Re, You would need to contact Leonardo Re via email at [email protected].
Please have your order number available and provide a reason for your request in order to speed up your refund process. Your request will be reviewed within 2 days and I will notify you via email of the results.
Refund, returns or exchanges request are accepted up to 30 days from the date of placing the Order. I may grant extensions to this period for some special cases and Products at my own discretion.
You may submit a request to cancel your order on the same day the order was placed. Please note that if the Order is already shipped or delivered I will not be able to approve the cancellation request.
Shipping costs are non-refundable.
If the refund request is granted by me, payments are refunded as follows:
Credit / Debit Cards payments will be refunded within one (1) business days;
Wire Transfer and check payments will be refunded within seven (7) business days and the cost of transfer will be supported by the end user;
PayPal payments will be refunded within one (1) business day;
Other payment methods will be refunded between five (5) to seven (7) days.
If applicable, Leonardo Re reserves the right to hold the refund payment until I receive a completed letter of destruction of the Product signed by you.
The present Refund policy is part of the COLORGET TERMS AND CONDITIONS.